Alternative

GOMERA
A guide to a fortnight's walking round La Gomera island near Tenerife

8th edition, May 04
The guide for walkers to La Gomera island near Tenerife
'This book is crammed with useful and extraordinary information'
The Independent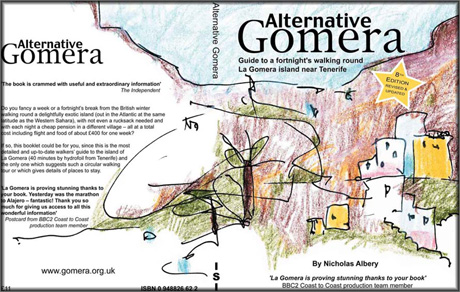 Alternative Gomera – A guide to a fortnight's walking round La Gomera island near Tenerife
(8th edition, published May 04), edited by Nicholas Albery et al

** August 2008 – OUT OF PRINT **

Plans to republish the 9th edition hope to take place in 2009

If you would like to know more or to assist contact
susan@naturaldeath.org.uk

The Natural Death Centre
(The Institute for Social Inventions)
12a Blackstock Mews
Blackstock Road
London N4 2BT
UK
Tel +44 [0]20 7359 8391 Fax +44 [0]20 7354 3831
E-mail: gomera@alberyfoundation.org
The first chapter is available for free online here, and regular corrections and updates are also available online. All proceeds go to the non-profit Institute for Social Inventions which publishes the guide.
---
You may also wish to buy the accompanying full-colour map that goes with the guide, our preferred map for walkers in Gomera (1:40,000 with GPS waypoints; made from waterproof & super-durable polymer; 2004 edition). Click here to order the map. It's only £7.00 incl. p&p.

Chapters in the book include:
* Accommodation in Gomera * Social experiments in Gomera * Money * Insurance * Cheap flights * Getting there * Ferry and hydrofoil
* Language * San Sebastian * Hermigua * Agulo * Vallehermoso * Valle Gran Rey * Chipude * Alajero * Imada * Santiago
* Map overview of all the walks * Detailed town maps * Walk descriptions for two weeks' walking
---
'La Gomera is proving stunning thanks to your book. Yesterday was the marathon to Alajero – fantastic!
Thank you so much for giving us access to all this wonderful information'
BBC2 Coast to Coast producer
---
Corrections and Updates
If you have any corrections or updates please send them in to:
"Alternative Gomera"
12a Blackstock Mews
Blackstock Road
London
N4 2BT
Tel 020 7359 8391 Fax 020 7354 3831
Email: gomera@alberyfoundation.org
Web: http://www.gomera.org.uk/
All corrections will be credited.
---

Alternative Gomera is published by the non-profit Institute for Social Inventions, which is a charitable project of the Nicholas Albery Foundation, UK registered charity 1091396. The charity trustees are Neil Almond, Megan Meredith, and Roxanne Persaud.

If you are interested in walks in the countryside within an hour by train from London, with a pub at lunchtime and a tea place in the afternoon, see the Time Out Book of Country Walks also by the late Nicholas Albery (obituaries of Nicholas can be read at The Times and at The Independent and at The Guardian and at The Telegraph).
---